We do things differently. We don't charge upfront fees.
That sets us apart from most financial advisers and planners, but we go even further in our mission to be as fair and transparent as possible. Our value lies in our service, so instead of calculating our ongoing charges as a percentage of the amount you invest, which is often dubbed a 'wealth tax', we charge a simple membership fee tailored to your requirements.
Our approach means you can experience the benefits we deliver, without the considerable upfront fee financial advisers and planners typically charge. You also have the freedom to cancel our service at any time, allowing you to experience the confidence and peace of mind that comes from working with us, with no tie ins.
The result of this approach?
A significant reduction in the fees you pay
Confidence that we're putting your interests first
Fairer fees based on the service you require and the value we add, not the amount you invest
We also offer the flexibility to pay for your membership from your investments or directly, should you prefer.
Why do we charge differently?

We believe it's the right thing to do. A model where you pay more simply because you invest more, has had its day. It's important that people can experience the benefits that working with a truly client and lifestyle focused financial planner can bring. Our approach allows them to do that with no upfront fees or tie ins.

We have designed a clear and fair approach that will stand the test of time. Our Made to Measure Fees reflect the complexity of client circumstances, the work involved and their requirements.
3 ways our unique fee structure benefits you:
1. Significantly reduced fees, leaving more money in your pocket
Our fixed-fee approach ensures you retain more of your wealth for you and your loved ones to enjoy.
2020 FCA (Financial Conduct Authority) research revealed that the average initial fee for engaging with a financial adviser or planner is 2.4% of the amount invested. That's £24,000 for an investment of £1 million, even if your affairs are straightforward. With Life Matters, you will pay an all-inclusive membership fee, which could mean a significant saving as shown below.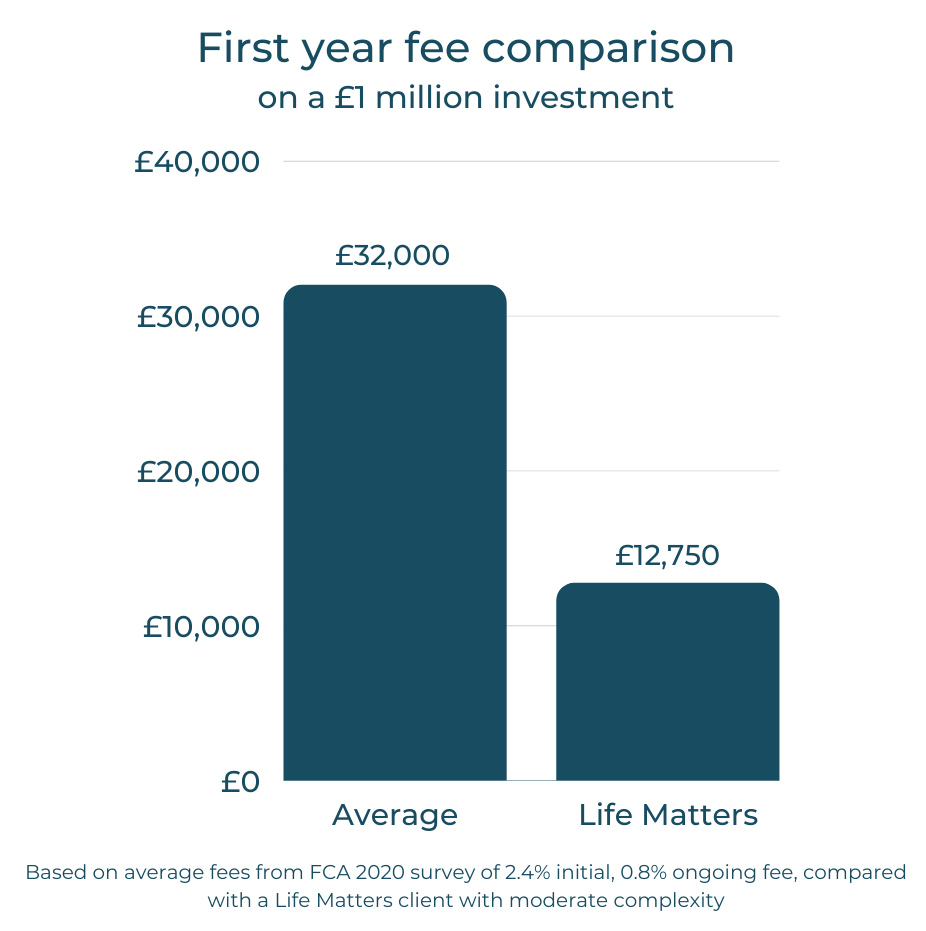 A traditional percentage-based fee means your fees will increase as the value of your investments rise, eroding the amount you retain over the long term. Clients pay us to deliver financial planning and create the best long-term investment strategies to meet their objectives. We feel strongly that we shouldn't be paid extra, simply for delivering this. Investment gains should benefit you not your financial adviser or planner.
2. Confidence that we're putting your interests first
Percentage fees create a conflict of interest between you and your adviser or planner. If you withdraw or spend some of the portfolio you have invested with them, the fee they receive reduces proportionately. This creates a conflict of interest, which is eliminated with our approach.
Our approach gives our clients confidence that we are motivated solely by what's best for them. As your objective sounding board, we give you the confidence to spend or share your hard-earned wealth in line with your aspirations. There's no fun in being the richest person in the graveyard!
3. Fairer fees based on the service you require and the value we add, not the amount you invest
If you currently have significant investments, it's important to understand that you're very likely to be subsidising the fees of those with less wealth. If you're paying double the amount when compared with someone with half your wealth, are you getting twice the benefit?
One size doesn't fit all, and our approach reflects this. Our annual membership fee service is all inclusive*. We work with you to invest or withdraw money in the most tax-efficient ways as you move through the milestones in life. As your requirements change over time, so will the membership fee you pay.
* Whilst this is almost always the case, we reserve the right to charge a separate fee for highly complex or unexpected projects. These will of course be agreed with you before engaging in any work.
Contact us to find out how much our membership fees could save you over your investment lifetime.