What is cryptocurrency, how does it work, and should I care?
Cryptocurrency regularly hits the headlines, but many people don't really understand what cryptocurrency is, or how it works.
Earlier this month the Independent reported that the overall cryptocurrency market was worth more than $2.75 trillion1, making it more valuable than the world's richest companies. So we wanted to outline some useful things to know about cryptocurrency.
What is cryptocurrency?
Cryptocurrency is a digital asset that you can buy, sell, spend, and trade. It takes the form of tokens or coins with their value determined by supply and demand. Given interest in cryptocurrencies has been high in recent years, valuations have shot up.
One characteristic of cryptocurrencies is that they are not generally issued by central authorities, which means they are sheltered from government oversight and interference. Partly as a result of this, cryptocurrencies have been linked to criminal activity as it's easier to launder than cash.
However, just this week it was reported that some central banks are planning to launch digital currencies and anticipate them becoming accepted as legal tender once they're more evolved.
The value of cryptocurrency rises and falls dramatically
This is one reason that few people trust the currencies enough to rely on them for everyday transactions.
The graphic below shows the price corrections of bitcoin, one of many available cryptocurrencies. As you can see, it has fallen around 30% or more on 15 separate occasions in just a 10-year period.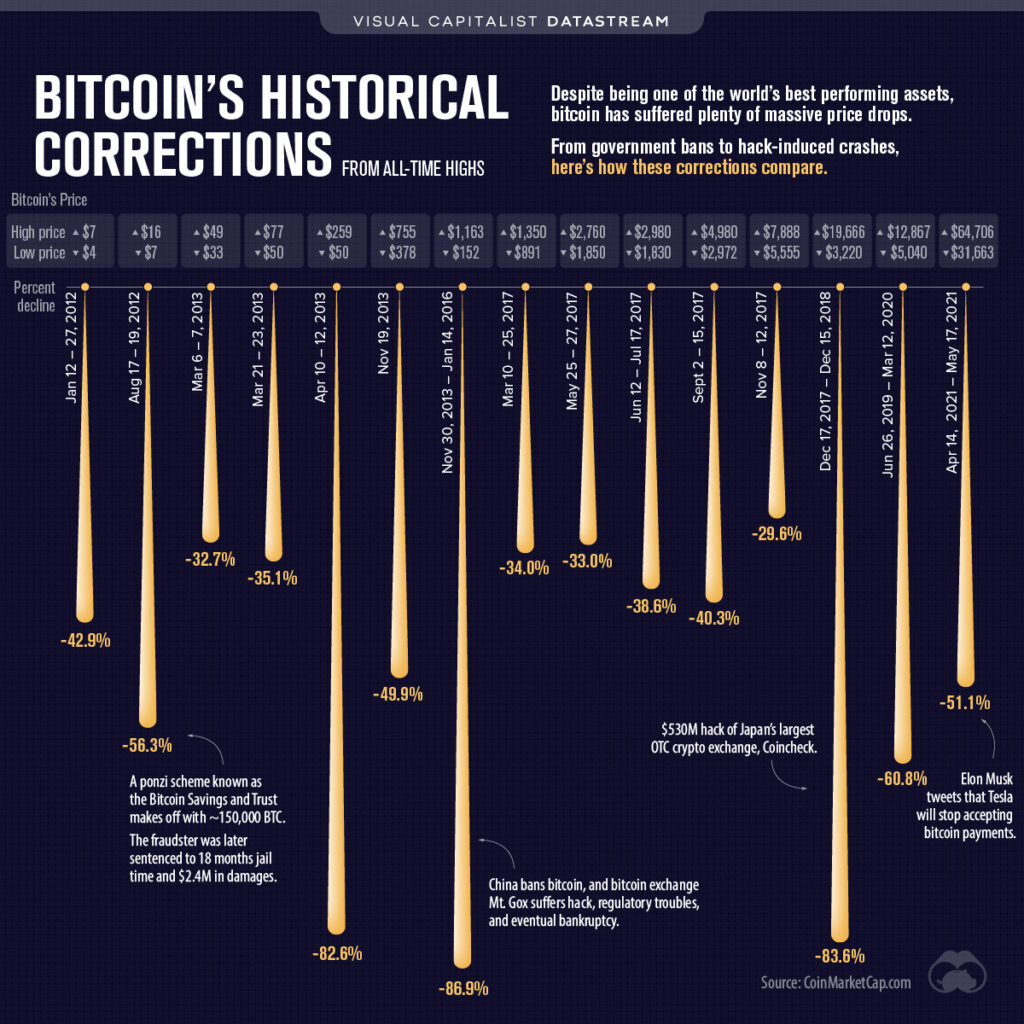 Source: Visual Capitalist May 2021
It's important to understand that purchasing cryptocurrency is speculating or gambling on a positive outcome, rather than investing. A simple tweet from Elon Musk to say that Tesla will stop accepting bitcoin payments wiped over 50% off its value. And China announcing that it was banning bitcoin saw an even greater decline in its value.
Hackers can and do steal cryptocurrency
People are also cautious about relying on cryptocurrency because opportunistic criminals are exploiting the lack of strong regulation by creating cryptocurrency related scams.
By the end of August 2021, known hacks and fraud had obtained a total value of $2.99 billion2. According to Crypto Head, a company that specialises in tracking and writing about the cryptocurrency market, on average, the number of offenses grows 41% every year.
To go mainstream, cryptocurrency must overcome multiple challenges
Here are four key things cryptocurrency needs to overcome if it is to have a secure future.
It needs to be regulated on a global scale
In the UK, any business engaged in cryptoasset activities must register with the FCA.
However, there is no global agreement on how cryptocurrency should be regulated, and many countries have no current regulation or have banned cryptocurrency altogether.
Processing payments needs to be easier
Right now, most cryptocurrency transactions are done through conversion to pounds or dollars. This process is clunky and can be time-consuming.
If cryptocurrency is to come into everyday use, transactions will also need to be cheaper and more efficient to process.
To highlight this point, Visa can make 24,000 transactions a second. In stark contrast, ethereum can make 20 transactions a second and bitcoin only seven transactions a second.
You need to be able to spend it easily
The opportunity to spend cryptocurrency remains limited.
This is due to two problems. First, the volatility of its value is off-putting to companies that are looking for payment for their goods and services. Second, there are only a few apps that can actually facilitate payments.
That said, the number of companies accepting crypto as an official payment method is increasing. Businesses where you can currently spend cryptocurrency include Starbucks, Amazon, Lush, Visa and PayPal.
You can even donate to charity using your cryptocurrency. The RNLI (Royal National Lifeboat Institution) will happily accept cryptocurrency donations3.
It needs to be greener
Rather than being printed or pressed like money, cryptocurrency is "mined". This requires complex mathematics using a blockchain, which takes an enormous amount of computing power. The vast network of computers needed to achieve this consumes a huge amount of energy.
To put it in perspective, bitcoin's energy consumption alone is over half the amount used by the data centres of the internet giants Google, Amazon, and Facebook. The University of Cambridge Centre for Alternative Finance (CCAF) calculates that bitcoin's energy consumption lies between 40 and 445 annualised terawatt-hours (TWh)4.
The electricity consumption for the whole of the UK is a little over 300 TWh a year.
Add to this the fact that the electricity used by bitcoin miners mostly comes from polluting sources and you can understand why this problem must be resolved before cryptocurrency can secure a firm foothold to become a valuable global currency.
The future of cryptocurrency
Cryptocurrencies have many challenges to overcome before gaining acceptance as mainstream. The security, practical use and long-term viability are all unresolved questions, which is why financial regulators repeatedly warn investors to approach cryptocurrency with extreme caution.
There's little doubt that cryptocurrency will remain in the headlines. It will be interesting to see how the crypto story evolves, and in years to come, we might all be using it for our everyday transactions.
Sources